How do I change my avatars appearance?[1]

[

edit

|

edit source

]
Updated 10/15/2011 at 01:42 Ahoy Chef!
Your restaurant is soon to be the hottest thing in town, so it's time to pick out your uniform in Cafè World!
Note: To choose your appearance, choose the T-shirt icon that appears when hover your mouse over your cafe's name. This is the "Customize Your Avatar" button.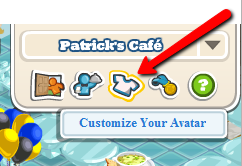 There are a few items available for free and some for purchase. You may choose an item to try on before purchasing. Simply click the pants or shirt to see the item on your avatar. If you like the item, choose the green check mark to purchase. If not, choose the red "x" to decline the new item and return to your previous piece of clothing. You may change your hairstyle, hair color, eyes, eye color, skin color and nose in the same way. You can even add facial markings!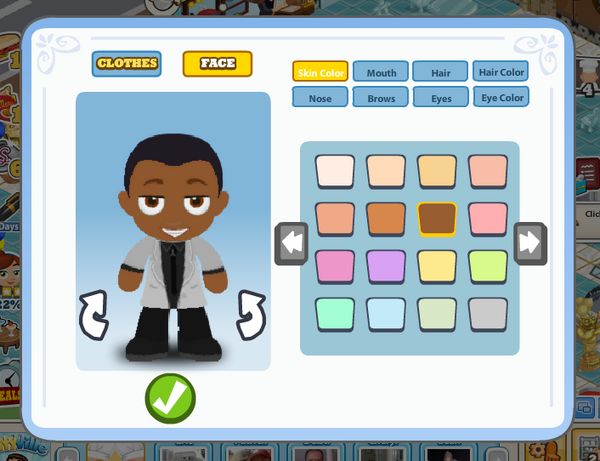 Now, get your fanciest outfit on, it's time to make some food!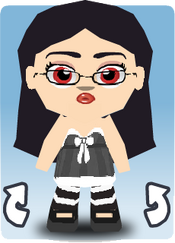 The change from the old to new avatars was a controversial one, a lot of players where very unhappy with the update but it was to make for a easier running game and not aesthetics.
Quote from Pinky Chefcadero - Forum Community Manager:


A Message Regarding the New Chef Avatars [2]
I am truly sorry you are so unhappy with the new avatars. I'm also sorry the message about their delivery was confusing. The new avatars are part of a whole new system that will allow us to make Café World better. The older avatars were a significant load on the entire game, causing a higher level of lag in the game. Many people complained that having a buzz of 105, with a full café of customers, caused their game to stop completely.

We awarded 10,000 coins to everyone to compensate for items we were not able to bring to the new system. This was in consideration of all items for avatars being available for coin purchase.

We do hear your feedback. We've been continuously sending every message to the whole team. To move forward with Café World, we will be unable to return to the old avatars. They were rendered as 3D characters and were causing the game to run slowly or not function at all for a lot of players.

I hope you can come to enjoy the new avatars over time.

We are also working on a fix for an issue with the chef blocking a stove. But until the fix is complete, I have one work-around. I turned stoves backwards, so they are creating a wall, with the front of the stoves facing away. (See screenshot)

This has solved the stove issue until the fix is finished.
Community content is available under
CC-BY-SA
unless otherwise noted.