Chashu Ramen


  Level Unlocked at
22       
  Cost
500   
  Servings
500   
  Price per Serving
3   
  Total for all Servings
1500   
  Ready in
6 hours   
  Preparation CP
15   
  Serving CP
65   
  Total CP
80   
Chashu Ramen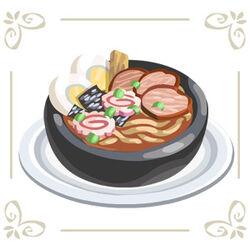 This dish was added 31 March, 2010 as part of the Easter Theme
Preparing the Dish
[
]
| MENU | Step 1. | Step 2. | Step 3. |
| --- | --- | --- | --- |
| | | | |
| Chashu Ramen | Count Eggs | Slice Pork | Measure Noodles |
Cooking the Dish
[
]
| Stage 1. | Stage 2. | Stage 3. | Finish! | Spoiled! |
| --- | --- | --- | --- | --- |
| | | | | |
| Boiling Eggs | Searing Pork | Boiling Noodles | Completed Dish | Spoiled Dish |
Serving the Dish
[
]

Events
[
]
Event
State
Gift
(Someone) is hosting a FREE taste testing at (Somewhere) today!

(Someone) has a steaming bowl of delicacies from land and sea!

Special Gift is 200 servings.

Events are 100 servings.

(Someone) is serving up a bountiful soup of fish, eggs and shoots in Cafe World! (Someone)'s Chef's Special at (Somewhere) is Chashu Ramen but it looks like everyone wants to paint some eggs instead of eating them, so (Someone) decided to give 100 bowls to each of his/her friends!

(Someone) just served a Perfect Dish!

(Someone) is well on their way to becoming a Master Chef! Their latest attempt at Chashu Ramen turned out perfectly, and they set aside 100 perfect servings to share with you!
See Also
[
]