Jumbo Shrimp Cocktail


  Level Unlocked at
7       
  Cost
65   
  Servings
37   
  Price per Serving
4   
  Total for all Servings
148   
  Ready in
30 mins   
  Preparation CP
3   
  Serving CP
17   
  Total CP
20   
Jumbo Shrimp Cocktail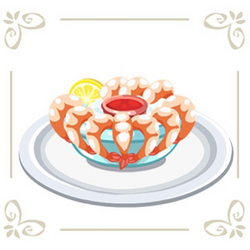 Original Dish
Preparing the Dish
Edit
MENU
Step1.
Step2.
Step3.
Jumbo
Shrimp Cocktail
Dicing Tomatoes
Mincing Garlic
Peeling Shrimp
Cooking the Dish
Edit
Stage1.
Stage2.
Stage3.
Finish!
Spoiled
Prepping
Ingrediants
Mixing Sauce
Chilling Cocktail
Completed Dish
Spoiled Dish
Serving the Dish
Edit

Cooking Mastery
Edit
| Jumbo Shrimp Cocktail | | | | Grand Total |
| --- | --- | --- | --- | --- |
| Number | 18 | 23 | 29 | 70 |
| | 1,170 | 1,495 | 1,885 | 4,550 |
| Time (dd hh:mm) | 0 09:00 | 0 11:30 | 0 14:30 | 1 11:00 |
| | 306 | 391 | 493 | 1,190 |
| Reward | +2 servings | +1 | -0 00:02 |   |
Event
State
Gift
(Someone) is hosting a FREE taste testing at (Somewhere) today !

(Someone) just learned there's nothing small about these JUMBO shrimp while making Jumbo Shrimp Cocktail ! Before the customers try this opulent treat, (Someone) would like all his/her friends to have a taste in Cafe World !

Chef Special - Jumbo Shrimp Cocktail is also a #1 meal in Dinner.
(Someone) just served a Perfect Dish !

(Someone) is well on their way to becoming a Master Chef ! Their latest attempt at Jumbo Shrimp Cocktail turned out perfectly, and they set aside 100 perfect servings to share with you !
Community content is available under
CC-BY-SA
unless otherwise noted.