King Crab Bisque


  Level Unlocked at
27       
  Cost
1300   
  Servings
955   
  Price per Serving
7   
  Total for all Servings
6685   
  Ready in
1 day   
  Preparation CP
54   
  Serving CP
197   
  Total CP
251   
King Crab Bisque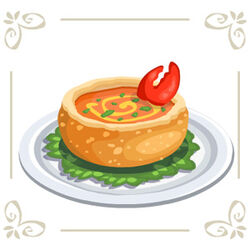 Seafood
Preparing the Dish
Edit
Rinse Crab
Slicing Potatoes
Chopping Onions
Cooking the Dish
Edit
Boiling Crab
Adding Potatoes
Simmering Soup
Serving the Dish
Edit

Cooking Mastery
Edit
| King Crab Bisque | | | | Grand Total |
| --- | --- | --- | --- | --- |
| Number | 30 | 35 | 58 | 123 |
| | 39,000 | 45,500 | 75,400 | 159,900 |
| Time (dd hh:mm) | 30 00:00 | 35 00:00 | 58 00:00 | 123 00:00 |
| | 5,910 | 6,895 | 11,426 | 24,231 |
| Reward | +48 servings | +10 | -0 01:12 |   |
Event
State
Gift
Taste Test
(Someone) just simmered a few too many Crab Bisques in Cafe World!

(Someone)'s Chef's Special at (Somewhere) is King Crab Bisque today, but the customers are all lactose intolerant! (Someone) is going to give 100 servings to each of her friends so they don't go to waste!

(Someone) just served a Perfect Dish !

(Someone) is well on their way to becoming a Master Chef ! Their latest attempt at King Crab Bisque turned out perfectly, and they set aside 100 perfect servings to share with you !
Community content is available under
CC-BY-SA
unless otherwise noted.