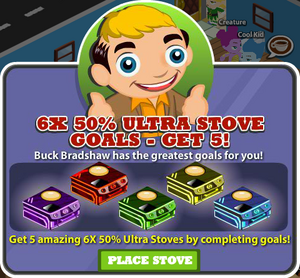 Note: Some dishes are random.
The Neon Ultra Stove Goals was a Limited Time mission that was released on June 07, 2012. The reward for completing the entire chain was five, 6X 50% Ultra Stoves. Each stove first had to be unlocked, then new quest chains appeared, thus allowing the player to build each stove. Unlike prior Buck Bradshaw Events, the cap of stoves was NOT temporarily extended to allow for users to use all of their stoves in addition to each of the five stoves that were under construction.
During the individual quests for each stove, burners were unlocked one at a time in a two-step process. Once a burner was unlocked, the stove could cook on that burner while the stove was continued to be built. Each stove had to be completely built by the end of the 21 day deadline, otherwise the player risked the stove locking, and unable to build the stove further.
Stove Goals
Edit
External Links
Edit
Official FAQ: [1]
Community content is available under
CC-BY-SA
unless otherwise noted.