&nbsp Lottery Tickets (sometimes called lotto tickets) were introduced to give people a way to earn Café Cash without paying real money. With the lottery tickets you can also earn some different Café-related things. To get a lottery ticket you need friends on Facebook, or you could join the Café World Fan Club. To send a lottery ticket to a friend, enter this site [1]. Then select which friend you want to send it to. You can send one lottery ticket in addition to one "normal" gift to the same person per day.
From the beginning, you could only scratch ten lottery tickets each day. This limitation was later removed, and you can now scratch an unlimited numbers of lottery tickets each day. It seems like the lottery tickets first should been bought for one or two Café Cash but they have never been available for purchase. On March 27, 2010, the odds of receiving Cafe Cash were doubled in response to player feedback.
Get Tickets
Edit
There are several ways to earn a lottery ticket. You can get one from the Fan Club. Or someone needs to level up. After someone levels up, they can choose to post that in Facebooks Newsfeed. By doing so, this message will appear in the newsfeed.
(Someone) has a stack of scratch lotto tickets to give out in Cafe World!
(Someone) just reached level X to become the Y in Cafe World, and is celebrating by giving out free scratch lotto tickets to all his/her friends!
Clicking the link that follows displays a lottery ticket. Just scratch one of the three stars to get a reward. After that is done, you can send Lottery tickets to your friends. After your friends have scratched the lottery ticket you sent them, they will be able to send you one back.
Fan Club Lotto Tickets
Edit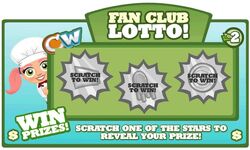 On March 25, 2010, an announcement and
link
were posted on the Cafe World Fan club page for a free Lotto ticket.
Fan Club Lotto is here! To celebrate click below for a FREE Fan Club Scratch Lotto ticket for all our loyal fans! Be sure to share some with your friends as we've boosted cash payouts across all lotto tickets this week, and keep your eyes out for another free ticket soon!
The following weekend, one additional Lotto ticket per 24 hours was available from this link.
You spoke and we listened! You told us you wanted MORE cash payouts in scratch lotto so we DOUBLED your chance of winning cash! To celebrate, we're giving out one free Fan Club lotto ticket every 24 hours this weekend!
Café Coins (100-5000) - 40% chance
Café Points (25-200) - 30% chance
Servings of different dishes (50-500) - 25% chance
Flower Trellises (Red, White and Blue) - 10% chance
Café Cash (1-5) - 5% chance
( Odds are approximate, based on repeated trials as of August 2011 )
Community content is available under
CC-BY-SA
unless otherwise noted.