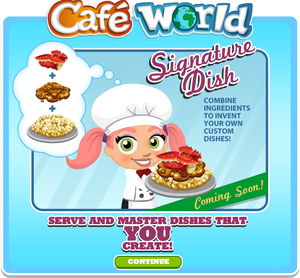 Signature Dish lets you create your own dish, add it to your cookbook, cook and master it! Buy more ingredients and get creative!
See also: The DishMaster and The DishMaster Goals.
Video Tutorial
Edit
Cafe World's FAQ[1]Edit
Hello Chefs!
Here we will update your frequently asked questions about the exciting new 'Signature Dish" feature.
If your questions aren't answered below, check out our Video Tutorial (Above).

Why do my friends have Signature Dish and I don't?
We are releasing Signature Dish slowly out to our players, so some of your friends may get the feature a couple hours before you. But don't worry, it will only take a few hours before everyone has this amazing new feature.
What is the Signature Dish?
This new feature allows you to creature your very own dishes by combining different ingredients. You can serve your Signature Dishes in your Cafe or even share them with friends.
What is the DishMaster?
The DishMaster is a new buildable. In the DishMaster, you can combine Ingredients to create your new dishes.
How do I start making signature dishes?
In order to be able to make your signature dishes you need to accomplish a series of goals including completing the DishMaster
What is the Taste Lab?
You can access the Taste Lab when you have completed DishMaster. In the Taste Lab, you can combine different ingredients to create new dishes, name your dishes, and monitor your dish's progress toward be upgraded to a signature dish.
How do I get new ingredients?
New ingredients will sometimes be rewarded in quests. They are also available in the new Ingredient Marketplace which can be accessed from the "Get More Ingredients" button at the bottom of the Taste Lab, through the "Ingredient Markeplace" banner at the bottom of the Cookbook, or through the the menu options in the bottom left of your screen (see below image)
What is the Ingredient Marketplace?
As pictured above, the Ingredient Marketplace is where you can buy the ingredients that make up your new dishes.
How can I cook my Taste Lab dishes?
After you have created your dish in the Taste Lab, it becomes available in your Cookbook. At the top of the Cookbook, on the far left, there will be two new categories "Signature Dish" and "Taste Lab" dish. You can click on your dishes and prepare them like any other dish.
What's the difference between a "Signature Dish" and a "Taste Lab" dish?
A "Taste Lab" dish is one you have created in your DishMaster, but has yet to be upgraded to a Signature Dish.
How do I upgrade a "Taste Lab" dish to a "Signature Dish"?
In order to upgrade a dish, you must serve it a given number of times and collect a give amount of feedback. The requirements for upgrading a dish are shown in the Taste Lab.
References
Edit
Community content is available under
CC-BY-SA
unless otherwise noted.