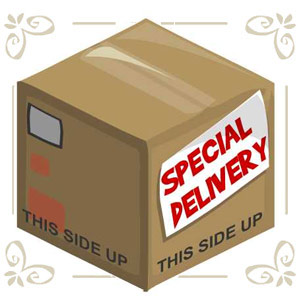 When you send the Special Delivery, your friend will get a part they need for any items they are currently building. You can receive Special Delivery Box too. There are several ways to get the Special Delivery Box.
Items that you can get from Special Delivery Box are:
You can receive parts for things that you are not able to build yet, such as getting Fridge parts before level 20.
It is implied that any items listed in Builder Viewer can also receive parts from the Special Delivery Box (including also the Catering Truck, Pizza Oven, The Salad Bar, Mr. Snowball, Drink Bar, Turkey Deep Fryer, and Jack O'Lantern). However, this does not include parts for a second Turkey Deep Fryer or a second Pizza Oven, and no longer appears to include the following items reportedly formerly provided:
Although Special Delivery Box can help manufacture the Salad Bar and Drink Bar, it will not provide items needed for Salad Bar or Drink Bar upgrades.
When all the items under Cafe World Build-ables are 100% complete, Special Delivery Box gives you a random food item.
Free Gift
Edit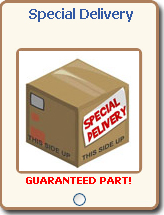 You can send a
Special Delivery Box
to your friend from the
Free Gifts
page.
Ask Friends
Edit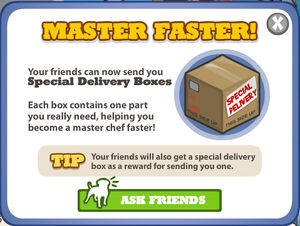 You can ask
Special Delivery Box
from your wall. Just click the
ASK FRIENDS
button every time the
MASTER FASTER!
pop-up is shown up. Your friends will also get a
Special Delivery Box
as a reward for sending you one.

Daily Bookmark Visit Bonus
Edit
You'll recieve a Special Delivery Box everytime you visit Cafe World through the Cafe World bookmark. You can get the Special Delivery Box every day.
Special Mail Delivery Service
Edit
You'll receive one Special Delivery straight to your email every day when you sign up for the Special Delivery Email Program. Check your email every day to receive your Special Delivery Orders. Don't forget to claim it every day because you only have 24 hours to claim your reward for every email.
Community content is available under
CC-BY-SA
unless otherwise noted.