'The Best Chefs Need The Best Equipment' was first introduced on the 30th October 2010. It has 3 stages: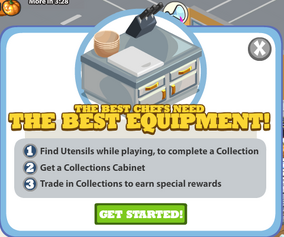 Find Utensils while playing, to complete a collection.
Get a Collections Cabinet.
Trade in Collections to earn special rewards.
Step 1
For step 1, you have to collect kitchen utensils around your cafe. You will collect an item usually every other time you serve a dish. You will need to collect every item five times to complete your set.
Stainless Saute Pan
Sauce Pan
Can Opener
Paring Knife
Saute Pan
Stainless Sauce Pan
Dinner Plate
Soup Bowl
Bread Knife
Salad Bowl
Stainless Frying Pan
Carving Knife
Stainless Omlette Pan
Serving Dish
Simple Wine Opener
Chef's Knife
Stainless Skillet
Salad Plate
Cutting Board
Frying Pan
Bread and Butter Plate
Wooden Spoon
Skillet
Utility Knife
Step 2
For step 2, you have to complete 'The Collections Cabinet'. You have to collect the required items:
Drawers (10)
Handles (10)
Mounting Bolts (10)
Paint (10)
Step 3
For step 3, you need can complete all the collections set with having one of all five items in the collections, then trading them in to earn rewards. The different collection sets are in the Collections Cabinet.
Community content is available under
CC-BY-SA
unless otherwise noted.