Vegetarian Tamales


  Level Unlocked at
48       
  Cost
300   
  Servings
50   
  Price per Serving
12   
  Total for all Servings
600   
  Ready in
1 hour   
  Preparation CP
12   
  Serving CP
20   
  Total CP
32   
Vegetarian Tamales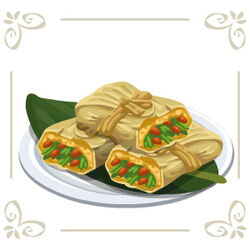 Cooking Mastery
Edit
| Vegetarian Tamales | | | | Grand Total |
| --- | --- | --- | --- | --- |
| Number | 59 | 65 | 85 | 209 |
| | 17,700 | 19,500 | 25,500 | 62,700 |
| Time (dd hh:mm) | 2 11:00 | 2 17:00 | 3 13:00 | 8 17:00 |
| | 1,180 | 1,300 | 1,700 | 4,180 |
| Reward | +3 servings | +1 | -0 00:03 |   |
Event
State
Gift
(someone) is offering a home cooked meal to all his/her friends!

(someone) just learned to make a Vegetarian Tamales his/her mother would be proud of, and he'd/she'd like to share it with all his/her friends in Cafe World!

(someone) just stewed a few too many Vegetarian Tamales in Cafe World!

(someone)'s Chef's Special at (somewhere) is Vegetarian Tamales today, but customers had no patience to wait for the slow cooking! (someone) is going to give 100 roasts to each of his/her friends or they'll spoil!
Community content is available under
CC-BY-SA
unless otherwise noted.