Veggie Lasagna


  Level Unlocked at
66       
  Cost
1400   
  Servings
900   
  Price per Serving
6   
  Total for all Servings
5400   
  Ready in
22 hours   
  Preparation CP
66   
  Serving CP
370   
  Total CP
436   
Veggie Lasagna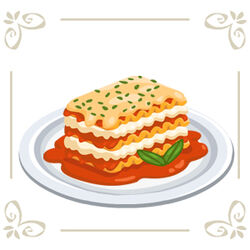 Preparing the Dish
Edit
| Menu | Step 1. | Step 2. | Step 3. |
| --- | --- | --- | --- |
| | | | |
| Veggie Lasagna | Wash Pasta | Chop Carrots | Peel Zucchini |
Cooking the Dish
Edit
Stage 1.
Stage 2.
Stage 3.
Finish!
Spoiled!
Making Sauce
Boiling Noodles
Baking Lasagna
Completed Dish
Spoiled Dish
Serving the Dish
Edit

Cooking Mastery
Edit
| Veggie Lasagna | | | | Grand Total |
| --- | --- | --- | --- | --- |
| Number | 77 | 84 | 109 | 270 |
| | 107,800 | 117,600 | 152,600 | 378,000 |
| Time (dd hh:mm) | 70 14:00 | 77 00:00 | 99 22:00 | 247 12:00 |
| | 28,490 | 31,080 | 40,330 | 99,900 |
| Reward | +45 servings | +19 | -0 01:06 |   |
Event
State
Gift
Taste Test
(Someone) just cooked too many batches of Veggie Lasagna!

(Someone)'s Chef's Special at (Somewhere) is Veggie Lasagna, but (Someone) made far too many. Lasagna tastes best when it is warm and (Someone) can't keep them warm enough for all his/her customers! (Someone) is giving away 100 Veggie Lasagna to his/her friends before they go cold!

(Someone) just served a Perfect Dish !

(Someone) is well on their way to becoming a Master Chef ! Their latest attempt at Veggie Lasagna turned out perfectly, and they set aside 100 perfect servings to share with you !
Community content is available under
CC-BY-SA
unless otherwise noted.